Vatican First-Class: Secluded Gardens & Sistine Chapel
Combined Experience - Vatican Gardens & Secret Passage to the Sistine Chapel
This Special Vatican tour covers all of the not-to-be-missed sites within the Vatican.
Avoid the crowds, congestion, sweat and stuffy rooms with our fresh Vatican Gardens and Sistine Chapel Private Access Tour.
Your journey beings with pickup from your hotel or preferred accommodation within Rome's City Center. The Vatican Museums is one of the most visited museums in the world and there is only one way to truly avoid the crowds inside during high season- by skipping the upper Galleries where crowds concentrate; going at a slow pace, creating a bottleneck and wasting your time.
You can beat the traffic by opting to visit the beautiful Vatican Gardens with your private tour guide and access the Sistine Chapel by taking a shortcut. Immerse yourself into the colorful pathways which are complemented by priceless artwork, fountains, alluring flowers and Renaissance architecture. Gaze at the giant labyrinth adorned by Lebanese Cedars catching all the details and hidden treasures within.
Continue your private tour with quick access to the Sistine Chapel directly from the Vatican Gardens. Listen to an explanation of Michelangelo's masterpiece commissioned by Pope Sixtus IV as the center of Christendom, unveiling the artist's secret meaning behind the artwork.
With your guide take advantage of quick access to St. Peter's Basilica where you will end your tour with the touching statue of La Pietà as well as the great Bernini's Baldacchino and holy St. Peter's Sepulcrum.
You will feel more relaxed and energetic after our open air, green tour without having to miss the two highlights of a Vatican Tour: the Sistine Chapel and St. Peter's Basilica.
Enjoy and keep the secret to yourself!


Summary
Approximately 3.5 hours
Kid-friendly tour
Not recommended for wheelchairs
Private Tour Only
Suggested starting time


08:30AM

Not recommended Sunday and Wednesday
Included

Blue Badge Qualified Guide | Admission Tickets | Meet&Greet your Guide at your Hotel/Accommodation | Private Tour | Guaranteed to skip the long lines

Not Included

Transfer to the site via Taxi (our guide can arrange this) | Private Driver (can be arranged upon request)
Standard itinerary
| | | | |
| --- | --- | --- | --- |
| Vatican Gardens | Sistine Chapel | St. Peter's Basilica | St. Peter's Square |
See our 3d Map to help you customize your tour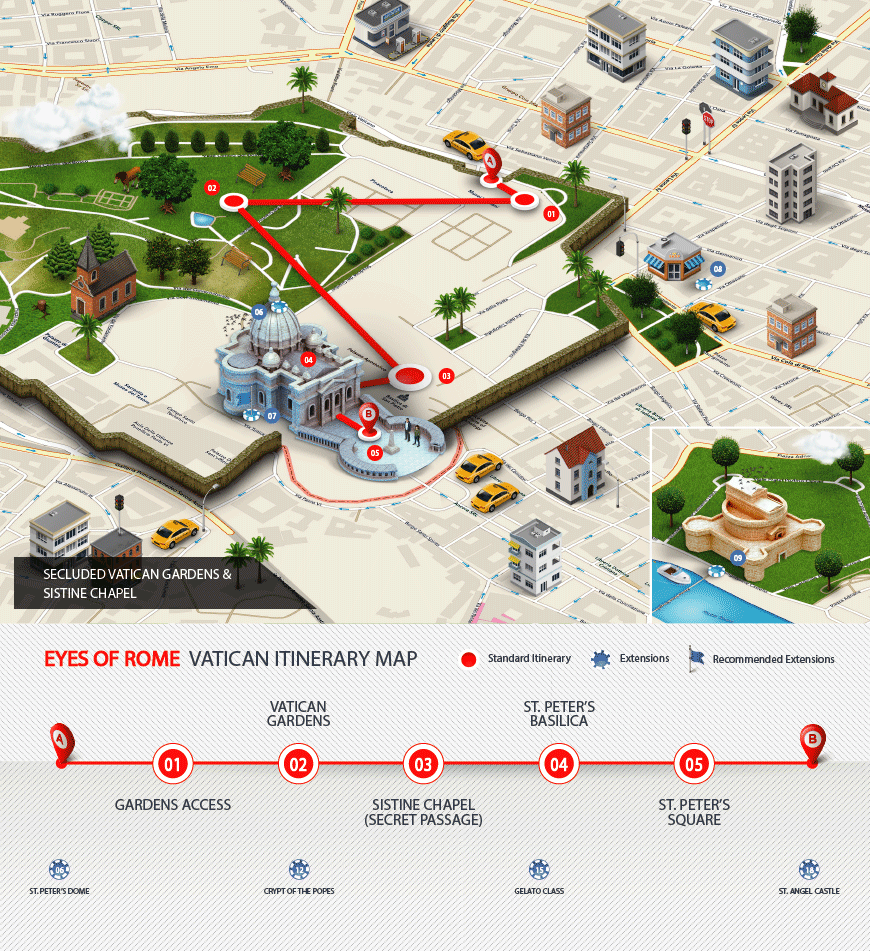 Enhance your Experience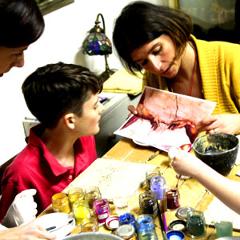 Handicraft Workshop - Be an Artist for a Day
US$320
** Please note: Price is up to 4 people. For bigger groups please send us an email.
In the picturesque atmosphere of Via dei Coronari, street of the antiques, you will take part in the workshop of an Italian artist. This activity is fun for the whole family!. You will learn how to make a fresco or a mosaic. Choose a subject, prepare the surface with the plaster, the drawing, and you will use your brush to give life to the images; or make your own mosaic with a natural glue (water and flour) and fasten the marble or the glass pieces (tesserae) on a wooden support, creating your small masterpiece. Take home your creation to make your Roman holidays even more memorable!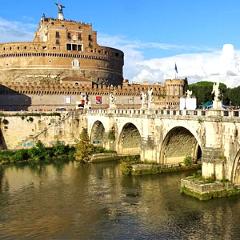 Castel St. Angelo
US$140
** Please note: Admission tickets are not included and will be charged separately.
As you exit St. Peter's Square, your guide will lead you along a quiet street that follows 'Il Passetto', the passageway connecting the Vatican to Castel Sant' Angelo, the Pope's fortress. You can opt to visit the castle for breathtaking views of the city or cross over Bernini's famous bridge of angels for scenic views of the river. A beautiful addition to the Vatican Tour, Castel Sant' Angelo is a great bookend to your day.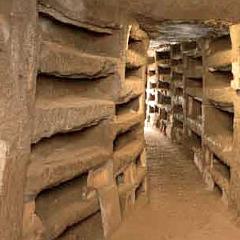 Catacombs
US$140
** Please note: Admission tickets are not included and will be purchased on site.
The quiet tunnels will come to life as your guide tells you the stories and legends of early Christianity during the days of Roman persecution. The catacombs were the underground burial places of the early Christian and Jewish communities. You will discover the secrets of Christianity's earliest proponents who helped Christianity survive during the persecution from Rome's pagan emperors. An extra fee will apply if transportation is requested.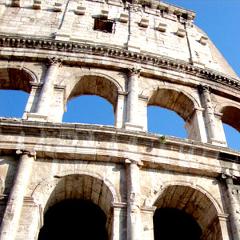 Colosseum
US$140
** Please note: Entrance to the site is optional - Admission tickets will be charged separately.
No time to do a full Colosseum tour? Make it quick! Marvel at this epic engineering feat of the ancient Romans, one of the most amazing attractions of the Ancient World, and a highlight of any trip to Rome. Your guide will bring to life the stories of this iconic monument, its famed gladiators and the emperors who made it all happen. An extra fee will apply if transportation is requested.
Crypt of the Popes
US$40
The Crypt of the Popes, also known as the Vatican Grottos, are positioned just below St. Peter's Basilica and above Constantine's 4th century basilica. The grottos contain chapels dedicated to various saints and tombs of kings, queens and popes, dating from the 10th century. The holiest place is Peter's tomb, containing the "memory", built in the 4th century by the Emperor Constantine, on the spot were the Apostle's tomb was venerated.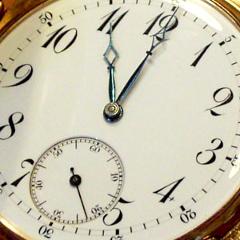 Extra Hour
US$70
Give yourself the freedom to take it easy- add an extra hour to your tour. With a private guide, you set the pace! If you prefer to spend some extra time to learn more, see more, take more photos, or if you have a large group, adding an extra hour ensures a leisurely tour without rushing to fit everything you want to see into the normal 3 hours.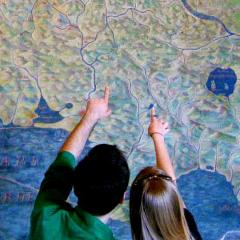 Kid-friendly
US$0
Request a Kid-friendly Tour Guide at no extra cost.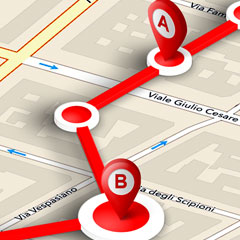 Create your own Tour - Make it a Full Day
US$210
Book your tour and create your personal walking experience by making it a full day, adding 3 extra hours! You can tell us in advance your favorite sites to visit or your personal guide will make suggestions based on your interests and energy level - you set the pace and see what you want to see. Please make a note on your booking if you have specific requests so we can ensure that reservations are made when needed. An extra fee will apply if transportation is requested.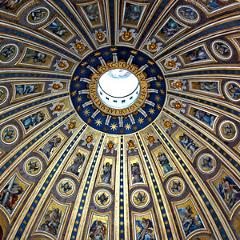 St.Peter's Dome
US$70
** Please note: Admission tickets will be charged separately - 7 Euros for elevator, 5 Euros for stairs.
Climb the most famous Dome in the world designed by Michelangelo and learn its secrets! You can take 320 steps to reach the roof level or you can take the elevator. If you feel you have some energy left you can keep take more steps to reach the dome for an astonishing view of the eternal city.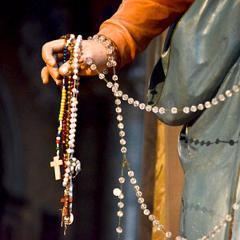 Religious Perspective
US$0
Request for a Tour Guide with strong religious background at no extra cost. Your experience will enrich in spirituality.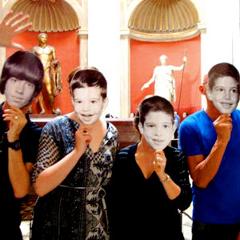 Smile and Tour
US$0
Request for a funny and entertaining Tour Guide. Your laughs come at no extra cost.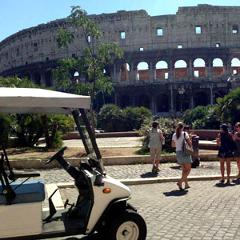 3 Hour Golf Cart Sightseeing Tour
US$370
** Please note: Price is for transport up to 4 people. For bigger groups please send us an email.
Discover a new way to tour historical Rome. Make yourself comfortable while your private driver and guide accompany you during this 3 hour tour. Set off and admire the most significant sights of the Eternal City. Listen to your guide, who will be your story-teller during this tour to discover the major fountains and squares of Rome.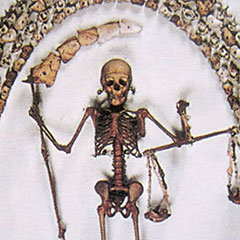 Capuchin Bone Crypt
US$70
** Please note: Admission tickets are not included and will be purchased on site.
The Capuchin Crypt is a small space comprising several tiny chapels located beneath the church of Santa Maria della Concezione dei Cappuccini on Via Veneto near Piazza Barberini. You'll be amazed by the strangely decorated Capuchin Chapel - which displays the bones of over 4,000 Capuchin monks! The Capuchin order insists that the display is not meant to be creepy, but instead, a silent reminder of the swift passage of life on Earth and our own mortality. An extra fee will apply if transportation is requested.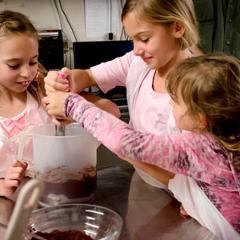 Gelato Class
US$350
** Please note: Price is up to 4 people. For bigger groups please send us an email.
Enjoy a short walk in the city center before heading to your gelato class. Reach a typical roman "gelateria", an artisanal workshop that has recently been renovated. Engage in a funny, entertaining activity and learn how italian people prepare the famous gelato. Make your own ice cream following the traditional Italian techniques and recipes and enjoy it! An extra fee will apply if transportation is requested.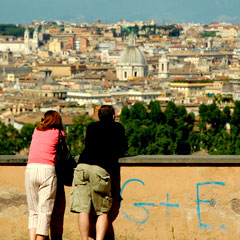 Gianicolo Hill
US$70
Get a one-of-a-kind view of Rome from the scenic park of Gianicolo hill. Stroll among statues, fountains like the famous Fontanone and even a lighthouse while overlooking the Eternal City. This hill is known for being one of the best spots in Rome for photos as well as on of the most romantic places in Rome! An extra fee will apply if transportation is requested.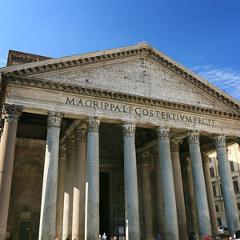 Pantheon
US$70
The Pantheon, this 2nd century tribute to All Gods and famed engineering marvel, has intrigued for ages - let your personal guide bring you back to the days of the emperors and gods when you visit this one-of-a-kind monument.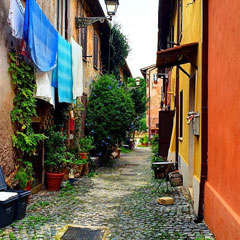 Trastevere
US$70
Lose yourself in Trastevere's charming streets and lively piazzas. You'll immediately see why this unique neighborhood is a favorite for visitors and locals alike. You'll find many bars and restaurants nestled in the curving alleys - a great place to end your day of tours and have a bite to eat! An extra fee will apply if transportation is requested.
 — Our Recommend Tour Extensions
Additional Information
Our complete Terms and Conditions can be found by following this link: https://www.eyesofrome.com/terms-and-conditions

PAYMENTS

Eyes of Rome® prices are in US Dollars - $. If you prefer to be billed in another currency (including EUR/GBP/CAD/AUS) please get in touch with our office by emailing info@eyesofrome.com.

Eyes of Rome® bookings require full or partial payments in advance depending on the selected services. Payment can be made online through our website, by phone, by invoice or via email. We accept PayPal, Bank Transfers and all major Credit Cards (Visa, MasterCard, American Express). In the event of any remaining balance at the end of your tour, payment can be made cash in Euros (EUR - €) to your guide or charged to your Credit Card in Dollars (USD - $).

You can choose between two payment options at the time of your reservation:

1. PAY A DEPOSIT

A down payment is only available for selected services purchased with Credit Card at least 3 days before the tour date. If you prefer to pay a deposit, then your remaining balance can be paid on the day of your tour. You can decide between a Cash payment (Euros only) or Credit Card payment (US Dollars):

(i) Cash payment. Eyes of Rome® will calculate the remaining amount in Euros as per Google Currency Converter - https://www.google.com/finance/converter. We require a 24-hours' notice for this option. The amount can be paid directly to your guide/driver at the end of your tour.

(ii) Credit Card payment. The remaining balance will be charged on the same Credit Card provided during your booking in US Dollars on the day of your tour.

2. PAY FULL AMOUNT

If you prefer to pay the entire amount at the time of your booking, you will be charged the amount in US Dollars right away. Tours purchased with less than 72-hours' notice, or selected tours that require special openings can only be reserved by paying in full.

REFUNDS & CANCELLATION

Eyes of Rome® charges no Cancellation Fee for most tours cancelled with more than 24 hours' notice.

We operate a Full Refund Policy of the amount paid during the booking for cancellations made with 24-hours' minimum notice. However, for selected tours that require advance booking of tickets, Eyes of Rome® reserves the right to keep the amount spent on tickets and reservations purchased in advance on your behalf. Nevertheless we assure you that we will make every effort to resell tickets and reservations purchased on your behalf in order to avoid you having to pay for them- our main priority is to ensure your satisfaction.

For client No-shows or tours cancelled with less than 24-hours' notice, we reserve the right to charge the full price of the package.

In order to provide the highest level of service with our top guides and guaranteed tour schedules, amendments or changes require 24-hours' minimum notice. Eyes of Rome® will make every effort to accommodate your request whenever possible, with no Cancellation Fee. In the event that tickets have been already purchased in your name and can not be moved to a different date or time, please be aware that we might need to purchase new admission tickets for you and the new cost will be added to your bill. Depending on the circumstances we will make every effort to find the most economic solution for you.
Please feel free to contact us if you have any questions about your Eyes of Rome booking. 

Info about your Secluded Vatican Gardens Eyes of Rome Tour:

Private Tour: This is a private tour – your party only.
Tour Time: Approximately 3 hours. Adding optional sites will extend your tour time.
Tour Start Time: 8:30AM at your accommodation. 
Tickets: Admission tickets for each participant are included in the total price. We will provide your fast line tickets access to the sites, however if you do hold already a reservation please be in touch with us before finalizing your booking and we will adjust your final cost.
Photos: Photos and Video are permitted with the exception of the Sistine Chapel.
Children Tour for Free: Children aged 17 and under tour free with paying parents. However reduced tickets are required for children aged between 6 and 17. Kids between 0 and 5 do not require a ticket.
Dress Code: Modest attire is required – knees and shoulders must be covered.
Design Your Own Experience: Sites visited are based on the pace of our average client. If you prefer a more leisurely pace, you can opt to see fewer sites. With a private guide, your tour is catered to your interests and activity level.
Mobility Impaired: Our tours involve a fair amount of walking. Please contact us if you are interested in modifying any of the tours for those who have trouble walking.
Guide Requests: Eyes of Rome will make every effort to schedule the guide you have requested, however, sometimes it is not possible due to schedule conflicts or time off. We appreciate your understanding in this matter.
Personal ID: You do NOT need a passport to enter the Vatican.
Personal Items: Large bags and large umbrellas are NOT allowed in the museum, retrieving checked items could effect your ability to cover the entire suggested itinerary.