When I was a child my father told me many stories and anecdotes about the Colosseum and Ancient Rome and we used to stroll through our Eternal City and play in the Roman Forum. With my mom, I used to visit all the churches, looking for the most fascinating painters and going shopping in the jewish district or in the big market at Piazza Vittorio. This is how I fell in love with Rome - because it's home and much more. Later, I studied Art History at University, focusing on the conservation of our cultural heritage. I believe it's an honor and a responsibility to take care of it and to preserve it for future generations. I received my Master's degree in Industrial Archaeology and then another one in Didactics of pictorial disciplines. I could have worked as a teacher or a professor, but I feel working as a guide is a special privilege and I hope to see you soon!

Being a tourguide is the most amazing job I could have asked for. I am lucky for the opportunity of being part of my guests' memories during their trips to Rome. Sometimes I feel a bit like I'm on vacation, too!
Rome is a never-ending process of discovery- the more I look around, the more I find! With so many perspectives and details to see, I don't think I will ever know it all. Actually I don't want to know it all; I'd love to spend my entire life investigating and noticing all of the different nuances of Rome's beauty.
Every day is different when I give my tours, even walking on the same paths; every question my guests ask, and their endless curiosity, become the most stimulating inspiration for my stories. You can see Rome always with different eyes. My aim is to introduce you to the aspects of my city that might make your visit even better, and thus give you the keys to make your own experience something unforgettable.
---
My favorite Italian Gestures

Aumma, Aumma (Ah-oo-ma, Ah-oo-ma) / Just between us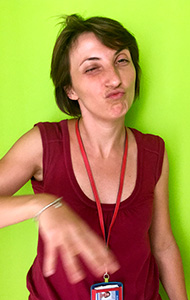 Have you ever done something "aumma aumma"? Can you imagine what it might mean?
If you want to keep something between you and another person or you don't want anyone to discover a smart idea you've had, you can say "aumma, aumma," or make the gesture. It means "keep it a secret" or "keep it hush-hush".
Open your right hand, turn your palm down, as if you are about to pick something up; do not close your hand, but keep it loose, about half way open. Then start rotating your wrist clockwise, as if you are stirring water in a bowl with your fingers. In order to give more intensity to this gesture, you should also tighten your lips and wink- this will emphasize the real meaning! To be sure the secret will be preserved, you may also need trustworthy friends...good luck with that! :)