Colosseum & Roman Forum
The Rise And Fall Of The Roman Empire
At first glance, you'll see rubble but soon your knowledgeable and passionate private guide will help bring the ruins to life, painting a vibrant picture of Rome in the time of the emperors.
Walk where the Roman senate walked, see where the gladiators fought, and stand where the citizens welcomed the Roman soldiers after successful campaigns.Leave the crowds behind and enter the Ancient Rome with your skip-the-line tickets and your personal local story teller. Walk where the Roman Senate met, see where the gladiators fought, and breathe the atmosphere of long lost echoes.
Visit the Colosseum, one of the largest structures of the ancient world, where Romans once gathered to watch the gladiator games, battles with wild beasts, and according to legend, sea battles. Discover how the Colosseum, a massive stone amphitheater which seated an estimated 60,000 spectators, was built in only 8 years. Your guide will unlock fascinating stories of the design and construction, the political benefit, the fighters, and the eventual end of the games at the Colosseum.
At the Imperial Roman Forum, your guide will bring to life the mythology, the popular celebrations of the time, and the gods of ancient Rome, which are reflected in the star signs in contemporary astrology. Learn how the pagan holiday Saturnalia influenced the unfolding of Christmas on the 25th of December today. Listen to the story of the Lapis Niger (Latin for 'black stone'), the most ancient Latin text ever discovered in the world - which is housed in the foundation of a column in the Forum.
Discover the Temple of the Vestal Virgins - six young women taken from aristocratic families to serve as virgin priests of Vesta. They worked in the temple for a period of 30 years under different emperors and were regarded almost as goddesses in status. Their foremost duty was maintaining the sacred fire of Vesta which represented the hearth of Rome. As legend had it - as long as the sacred flame burned, Rome would endure.
End your tour with a wonderful view of the city and of the Imperial Forum from Capitoline Hill, the smallest and most important of the seven hills of Ancient Rome.

Summary
Approximately 3 hours
Kid-friendly tour
Partial access for wheelchairs
Private Tour Only
Suggested starting time
09:30AM or 1.30PM (Nov-Mar)
08:30AM or 3:00PM (Apr-Oct)
Not recommended on the first Sunday of the month
Included

Blue Badge Qualified Guide with Excellent Language Skills (Select your Language) | Admission Tickets (Guaranteed to skip the long lines) | Meet & Greet Service (Meet your Guide at your Hotel/Accommodation or at your Preferred Location)

Not Included

Transfer to the site via Taxi (our guide can arrange this) | Private Driver (can be arranged upon request)
Standard itinerary
| | | | |
| --- | --- | --- | --- |
| Colosseum | Roman Forum | Temple of Vestal Virgins | Capitoline Hill |
See our 3d Map to help you customize your tour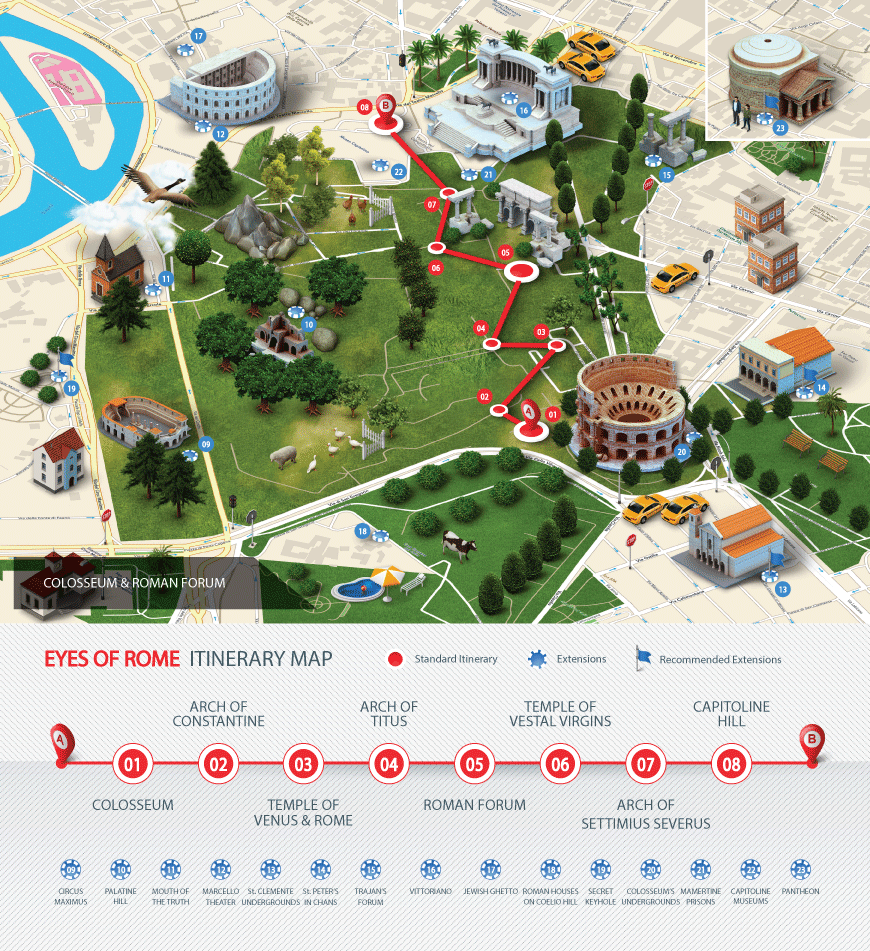 Enhance your Experience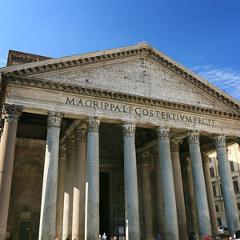 Pantheon
US$70
The Pantheon, this 2nd century tribute to All Gods and famed engineering marvel, has intrigued for ages - let your personal guide bring you back to the days of the emperors and gods when you visit this one-of-a-kind monument.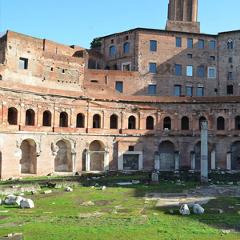 Trajan's Market and Forum
US$40
** Please note: Entrance to the site is optional - Admission tickets will be charged separately.
See the world's first shopping mall in Trajan's 2nd century "new" Roman Forum. See how history was recorded on the triumphal column, which documents the most important battles as well as marks the original height of the hill that was cleared to make way for the new construction. This marvel of Roman engineering will surprise and delight.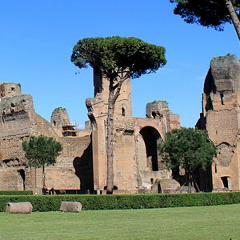 Baths of Caracalla
US$70
** Please note: Admission tickets are not included and will be purchased on site.
One of the few places you can see ancient structure's full height – you'll be transported to the 3rd century as you walk among this vast bath complex. You'll see where slaves loaded ancient furnaces to heat the water for the different pools of this amazingly intact spa. You'll see mosaics that still decorate the pool floors, and even a game board used by bath visitors to pass the time while they soaked in the warm water. An extra fee will apply if transportation is requested.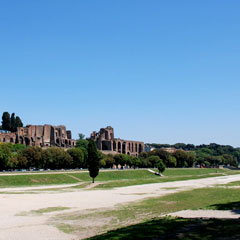 Circus Maximus
US$40
As you walk around the enormous elliptical Circus Maximus, you will travel back in time to the earliest days of Rome. You will almost hear the spectators as you stand where over 100,000 Romans celebrated the public games. Travel back even further to when the first Etruscan king Romulus once celebrated victory over the Sabines in this famous spot. This is a great addition to a Colosseum/Roman Forum tour! An extra fee will apply if transportation is requested.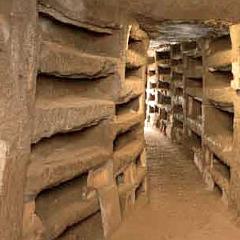 Catacombs
US$140
** Please note: Admission tickets are not included and will be purchased on site.
The quiet tunnels will come to life as your guide tells you the stories and legends of early Christianity during the days of Roman persecution. The catacombs were the underground burial places of the early Christian and Jewish communities. You will discover the secrets of Christianity's earliest proponents who helped Christianity survive during the persecution from Rome's pagan emperors. An extra fee will apply if transportation is requested.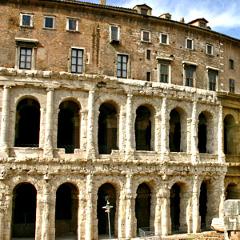 Ancient Secrets: Teatro Marcello and Area Sacra of Largo Argentina
US$70
Reveal the ancient secrets you won't find at the Forum with this extension! Walk through the Teatro Marcello, conceived by Caesar and built by Augustus, which certainly served as the blue-print for the later and more famous Colosseum. Then visit the Jewish Ghetto and end in the Area Sacra of Largo Argentina where you will learn about Julius Caesar's dramatic final moments. An extra fee will apply if transportation is requested.
Famous Piazzas & Fountains
US$70
Don't miss Bernini's Triton Fountain in Piazza Barberini or Rome's twin church domes in Piazza del Popolo. You can opt to go up the Pincio hill for one of the best views in the city. Or maybe you want to see the famed Piazza Navona? You will get plenty of ideas of where to eat and shop as you walk through these famous neighborhoods with your expert guide. An extra fee will apply if transportation is requested.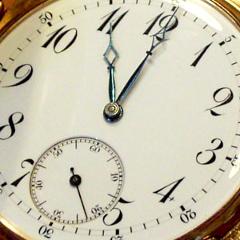 Extra Hour
US$70
Give yourself the freedom to take it easy- add an extra hour to your tour. With a private guide, you set the pace! If you prefer to spend some extra time to learn more, see more, take more photos, or if you have a large group, adding an extra hour ensures a leisurely tour without rushing to fit everything you want to see into the normal 3 hours.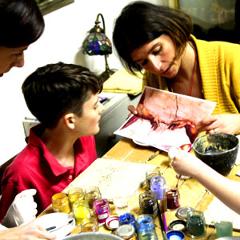 Handicraft Workshop - Be an Artist for a Day
US$320
** Please note: Price is up to 4 people. For bigger groups please send us an email.
In the picturesque atmosphere of Via dei Coronari, street of the antiques, you will take part in the workshop of an Italian artist. This activity is fun for the whole family!. You will learn how to make a fresco or a mosaic. Choose a subject, prepare the surface with the plaster, the drawing, and you will use your brush to give life to the images; or make your own mosaic with a natural glue (water and flour) and fasten the marble or the glass pieces (tesserae) on a wooden support, creating your small masterpiece. Take home your creation to make your Roman holidays even more memorable!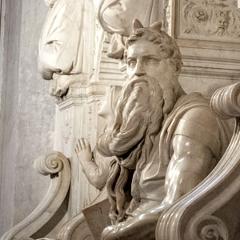 St. Peter in Chains - Michelangelo's Moses
US$40
Do not miss one of the most famous statues ever carved by Michelangelo - The Moses. This masterpiece is located in the church of St. Peter's in chains just a few steps away from the Colosseum. An extra fee will apply if transportation is requested.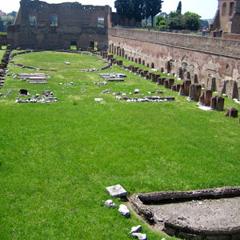 Palatine Hill
US$40
From the Forum you will take a pleasant stroll to Palatine Hill, where Rome is thought to have originated. Walk among its beautiful hills and gardens and explore the Domus Augustus - Villa of Augustus - the partially excavated palace of Augustus and successive emperors. Your guide will discuss the legendary cave of Palatine Hill where, as myth has it, Romulus and Remus were found by the she-wolf who nurtured them through infancy.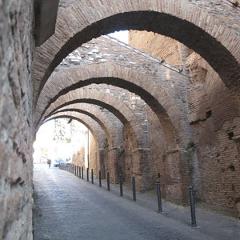 Roman Houses on the Celio Hill
US$70
** Please note: Admission tickets are not included and will be purchased on site.
This subterranean visit is a perfect extension for those loving off the beaten path visits. The Roman Houses on the Celio Hill is a fascinating time machine to discover the ancient roman lifestyle. An extra fee will apply if transportation is requested.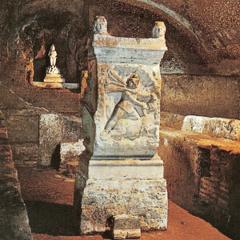 St.Clemente Undergrounds
US$70
** Please note: That admission tickets are not included and will be purchased on site.
Visit one of the most famous churches in Rome, St. Clemente with its mysterious undergrounds. An extra fee will apply if transportation is requested.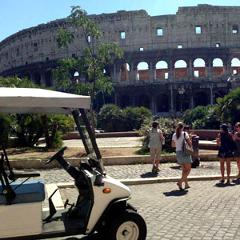 3 Hour Golf Cart Sightseeing Tour
US$370
** Please note: Price is for transport up to 4 people. For bigger groups please send us an email.
Discover a new way to tour historical Rome. Make yourself comfortable while your private driver and guide accompany you during this 3 hour tour. Set off and admire the most significant sights of the Eternal City. Listen to your guide, who will be your story-teller during this tour to discover the major fountains and squares of Rome.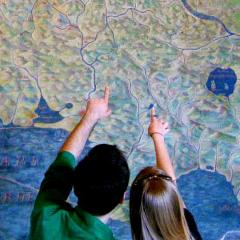 Kid-friendly
US$0
Request a Kid-friendly Tour Guide at no extra cost.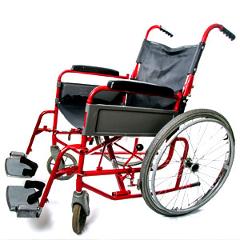 Request a Wheelchair
US$50
Add a wheelchair for your Vatican Museums visit. Your guide will select the best itinerary for you.
 — Our Recommend Tour Extensions
Additional Information
Our complete Terms and Conditions can be found by following this link: https://www.eyesofrome.com/terms-and-conditions

PAYMENTS

Eyes of Rome® prices are in US Dollars - $. If you prefer to be billed in another currency (including EUR/GBP/CAD/AUS) please get in touch with our office by emailing info@eyesofrome.com.

Eyes of Rome® bookings require full or partial payments in advance depending on the selected services. Payment can be made online through our website, by phone, by invoice or via email. We accept PayPal, Bank Transfers and all major Credit Cards (Visa, MasterCard, American Express). In the event of any remaining balance at the end of your tour, payment can be made cash in Euros (EUR - €) to your guide or charged to your Credit Card in Dollars (USD - $).

You can choose between two payment options at the time of your reservation:

1. PAY A DEPOSIT

A down payment is only available for selected services purchased with Credit Card at least 3 days before the tour date. If you prefer to pay a deposit, then your remaining balance can be paid on the day of your tour. You can decide between a Cash payment (Euros only) or Credit Card payment (US Dollars):

(i) Cash payment. Eyes of Rome® will calculate the remaining amount in Euros as per Google Currency Converter - https://www.google.com/finance/converter. We require a 24-hours' notice for this option. The amount can be paid directly to your guide/driver at the end of your tour.

(ii) Credit Card payment. The remaining balance will be charged on the same Credit Card provided during your booking in US Dollars on the day of your tour.

2. PAY FULL AMOUNT

If you prefer to pay the entire amount at the time of your booking, you will be charged the amount in US Dollars right away. Tours purchased with less than 72-hours' notice, or selected tours that require special openings can only be reserved by paying in full.

REFUNDS & CANCELLATION

Eyes of Rome® charges no Cancellation Fee for most tours cancelled with more than 24 hours' notice.

We operate a Full Refund Policy of the amount paid during the booking for cancellations made with 24-hours' minimum notice. However, for selected tours that require advance booking of tickets, Eyes of Rome® reserves the right to keep the amount spent on tickets and reservations purchased in advance on your behalf. Nevertheless we assure you that we will make every effort to resell tickets and reservations purchased on your behalf in order to avoid you having to pay for them- our main priority is to ensure your satisfaction.

For client No-shows or tours cancelled with less than 24-hours' notice, we reserve the right to charge the full price of the package.

In order to provide the highest level of service with our top guides and guaranteed tour schedules, amendments or changes require 24-hours' minimum notice. Eyes of Rome® will make every effort to accommodate your request whenever possible, with no Cancellation Fee. In the event that tickets have been already purchased in your name and can not be moved to a different date or time, please be aware that we might need to purchase new admission tickets for you and the new cost will be added to your bill. Depending on the circumstances we will make every effort to find the most economic solution for you.
Please feel free to contact us if you have any questions about your Eyes of Rome booking. 

Info about your Colosseum & Roman Forum Eyes of Rome Tour:

Private Tour: This is a private tour – your party only.
Tour Time: Approximately 3 hours. Adding optional sites will extend your tour time.
Tour Start Time: You can select your favorite starting time. We recommend 09:30AM or 1.30PM in the months between November/March, or 08:30AM or 3:00PM in the months between April/October.
Tickets: Admission tickets for each participant are included in the total price. We will provide your fast line tickets access to the sites, however if you do hold already a reservation please be in touch with us before finalizing your booking and we will adjust your final cost.
Photos: Photos and Video are allowed.
Children Tour for Free: Children aged 17 and under tour free with paying parents. However tickets are required for children aged between 6 and 17. Kids between 0 and 5 do not require a ticket.
Design Your Own Experience: Sites visited are based on the pace of our average client. If you prefer a more leisurely pace, you can opt to see fewer sites. With a private guide, your tour is catered to your interests and activity level.
Mobility Impaired: Our tours involve a fair amount of walking. Please contact us if you are interested in modifying any of the tours for those who have trouble walking.
Guide Requests: Eyes of Rome will make every effort to schedule the guide you have requested, however, sometimes it is not possible due to schedule conflicts or time off. We appreciate your understanding in this matter.
Personal Items: Large bags are NOT allowed in the Colosseum. 
Tips: Be prepared to climb uneven steps and explore an archeological site - wear good shoes. Anticipate Rome's intense heat in the summer - you may want to bring a small umbrella to block the sun as well as bottles of water.