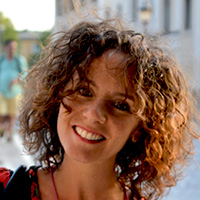 Born in: Latina
Nationality: Italian
My Studies: Art History and Tourism
Languages I speak: Italian, English, French
My Tours are: Always different and completely tailored to your needs! I really love making you feel at home and I have plenty of stories, tips, and little secrets you can only know if you live in Rome.
If I was a phrase I would be:
You should start each day with a song in your heart, a gleam in your eye and peace in your soul.
Buongiorno! My name is Serena, I am a tour guide and I simply love it. I studied Art History in college and I also spent a year studying and working at the art restoration institute of Rome. My passion for art, archeology and history runs deep and my goal is share this passion, with other people all of the beauty of my city. I fell in love with Rome and its history, art and architecture and I felt I wanted to know even more about its hidden places, stories, legends and secrets that make this city so special. Luckily, my studies perfectly matched my constant curiosity! What I do when I am not working? I love to spend time with my family and my friends (my 'soul family') and of course with my two little dogs (Mamma's princesses!!!) I love cooking, and eating too- by now I could get master's degrees in pizza, pasta and gelato! And I love to travel, discover the world, experience new cultures. Traveling is the only way of spending money that will make you richer!

---
My favorite Italian Gestures

And so / Allora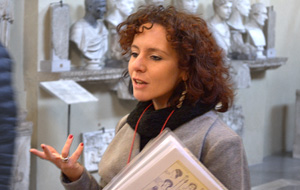 I use 'allora' so much during my tours. For some reason, it doesn't really come out in English when I am speaking.
It can mean a few things: So? And? And so... And then… I use it to start a new sentence, to make sure you understood what I said or that you wrote the name of the best gelato place correctly, to check if you are ok or if you need a rest.
Allora is used for everything- that's why at some point during my tour, my clients ask, "Serena, what does 'allora' mean?" Now you know!