Ever since I was a little girl, I have always read stories about the Roman emperors. Their lives, secrets, and mistakes were fascinating to me. When sleeping, I dreamt of walking in the Colosseum or down the narrow streets of the Ancient Rome over and over again. There was no place I wanted to see more. I grew up in magical Prague surrounded by beautiful art in my father's art gallery. So a deep understanding of art was always a must in our family. During my studies of history and law at university I made an Italian friend. She invited me to see for myself the most special city in the world- Rome! There is an atmosphere here like nowhere else, as if the city had a soul of its own. I fell in love not only with Rome, Italians, and gelato, but also with my Italian friend's brother. I know now, he was no Casanova or Don Giovanni, but he is my Roman. He took me to the Colosseum for the first time and even without any explanation, I cried. My dream was coming true in so many ways and I had no idea yet. Since then I keep discovering and studying the past and present Roman life and culture. There is not only history and art, but fashion, cars, food & drink… studying It will take my entire lifetime and that won't even be enough. Rome became my adopted city and I can now advise you to be careful how much money you throw into the Trevi fountain. You may not be able to leave the Eternal city- I couldn't!

Being a tourguide is a challenge! The expectations of each person are different, so every tour must be unique. I strive to perfectly to tailor my tour according to my clients needs and interests. My passion is everyday life in ancient Rome: the food, medicine, clothing, even make up! For example, would you like to taste the meal prepared by famous ancient Roman cook Apicius, oyster-filled pork breasts?! Trust me pizza is much more enjoyable.
Speaking of art history, I find the real lives of artists like Raphael or Bernini intriguing. The life of a genius can be a clue that lets you see their masterpieces in the proper light. My English is excellent. I am a geek ;-) and I also have had many American professors. I tour with many pictures, and even reconstructions in 3D. I find the visual additions make the tour richer. One of my favorite moments is when I 'click' with the people on my tour and it feels as if we are old friends. I can never get enough of the energy it gives me- it's like a spark!
---
My favorite Italian Gestures
Yummy! / Buono!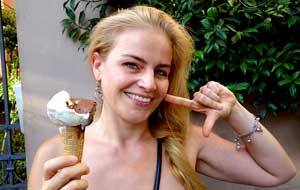 You don't have to speak Italian to compliment the chef for the great meal you've tasted.
Here we go. Put your hand in position like you are pointing at something. Point to your cheek in and rotate your wrist back and forward a few times. That's it!
The best way to practice this gesture is obviously at a pizzeria or with a gelato in your hand! Che buono!