Keep your fingers crossed! / Incrociare le dita!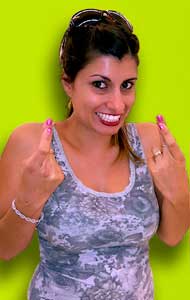 'Incrociare le dita' is a gesture that consists of putting your middle finger over your index finger and is designed to bring good luck. I always do it when I ask customers for a review at the end of the tour thinking, "I hope they will leave me a five-star review!" Originally this gesture had a religious significance because it represented a sign of the shortened cross, as if to ask for divine protection. Today, the meaning of this gesture has nothing to do with Christianity, and if your fingers are hidden behind your back, its meaning is completely different. If you cross your fingers in secret it means you are aware of making a promise that you will not be able to keep, and you want to protect yourself from the consequences.
My daughter, for example, always does it when I ask her to promise me not to eat too much candy when she visits her grandparents. She crosses her fingers behind her back and automatically annuls her promise. I can only hope that with all those sweets she doesn't get any cavities...and I'll keep my fingers crossed!