Aumma, Aumma (Ah-oo-ma, Ah-oo-ma) / Just between us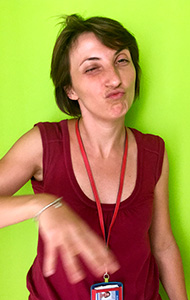 Have you ever done something "aumma aumma"? Can you imagine what it might mean?

If you want to keep something between you and another person or you don't want anyone to discover a smart idea you've had, you can say "aumma, aumma," or make the gesture. It means "keep it a secret" or "keep it hush-hush".
Open your right hand, turn your palm down, as if you are about to pick something up; do not close your hand, but keep it loose, about half way open. Then start rotating your wrist clockwise, as if you are stirring water in a bowl with your fingers. In order to give more intensity to this gesture, you should also tighten your lips and wink- this will emphasize the real meaning! To be sure the secret will be preserved, you may also need trustworthy friends...good luck with that! :)