Make it short / Taglia corto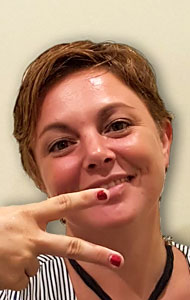 I always teach this gesture to my guests on my tours. Sometimes I get excited and go into a lot of detail about the various masterpieces we see together. If you've heard enough and want to move on, simply let me know that I should wrap things up, make it short or, in Italian, "taglia corto."

Move your hand across your face while making the scissors gesture, giving the speaker one good snip, letting them know that they can make it short, or "taglia corto". That's it! If they don't get it the first time, you may have to let them know you've heard enough. With me, however, I will know what you mean right away!
Caution! Use with extreme prudence with wives or daughters! You have been warned!!