In the Footsteps of Saint Paul
The History and Life of the Apostle of the Gentiles
Saint Paul, the Apostle, original name Saul of Tarsus, was one of the leaders of the first generation of Christians, often considered to be the second most important person in the history of Christianity.
His surviving letters have had enormous influence on subsequent Christianity and secure his place as one of the greatest religious leaders of all time.
Accompanied by an expert guide you will visit the places connected to St. Paul's life. Start your tour at the Basilica of San Paolo Fuori le Mura, a church filled with a sacred atmosphere that houses his shrine.
St. Paul came to Rome in 61 AD when the Roman court sentenced him to death for professing his faith. During this tour you will visit the place where this sentence was carried out and the site of his martyrdom - the "palude Salvia" - at the Abbazia delle Tre Fontane, today a quiet and peaceful monastery in the heart of Rome.
The last stop of your tour will be the Carcere Mamertino, the oldest prison in Rome, where the Apostles St. Paul and St. Peter were imprisoned for 9 months and where, according to legend, they miraculously made water appear in order to baptize the guards.
Summary
Approximately 3 hours
Kid-friendly tour
Wheelchair accessible
Private Tour Only
Suggested starting time


9:30AM or 2:30PM

Not available on Sundays
Included

Blue Badge Qualified Guide | Meet&Greet your Guide at your Hotel/Accommodation | Private Tour

Not Included

Transfer to the site via Taxi (our guide can arrange this) | Private Driver (can be arranged upon request) | Admission tickets (to be purchased on site)
Standard itinerary
| | | |
| --- | --- | --- |
| Basilica di San Paolo Fuori le Mura | Abbazia delle Tre Fontane | Carcere Mamertino |
Enhance your Experience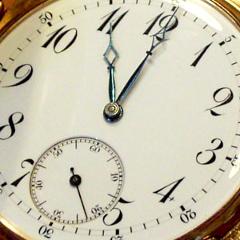 Extra Hour
US$70
Give yourself the freedom to take it easy- add an extra hour to your tour. With a private guide, you set the pace! If you prefer to spend some extra time to learn more, see more, take more photos, or if you have a large group, adding an extra hour ensures a leisurely tour without rushing to fit everything you want to see into the normal 3 hours.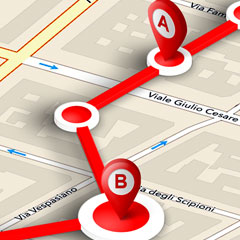 Create your own Tour - Make it a Full Day
US$210
Book your tour and create your personal walking experience by making it a full day, adding 3 extra hours! You can tell us in advance your favorite sites to visit or your personal guide will make suggestions based on your interests and energy level - you set the pace and see what you want to see. Please make a note on your booking if you have specific requests so we can ensure that reservations are made when needed. An extra fee will apply if transportation is requested.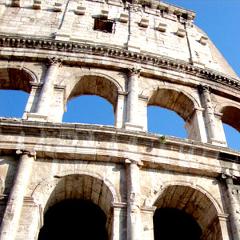 Colosseum
US$140
** Please note: Entrance to the site is optional - Admission tickets will be charged separately.
No time to do a full Colosseum tour? Make it quick! Marvel at this epic engineering feat of the ancient Romans, one of the most amazing attractions of the Ancient World, and a highlight of any trip to Rome. Your guide will bring to life the stories of this iconic monument, its famed gladiators and the emperors who made it all happen. An extra fee will apply if transportation is requested.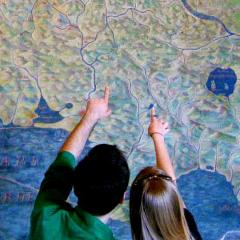 Kid-friendly
US$0
Request a Kid-friendly Tour Guide at no extra cost.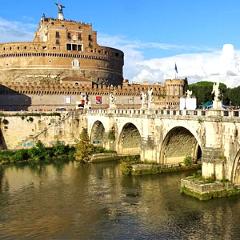 Castel St. Angelo
US$140
** Please note: Admission tickets are not included and will be charged separately.
As you exit St. Peter's Square, your guide will lead you along a quiet street that follows 'Il Passetto', the passageway connecting the Vatican to Castel Sant' Angelo, the Pope's fortress. You can opt to visit the castle for breathtaking views of the city or cross over Bernini's famous bridge of angels for scenic views of the river. A beautiful addition to the Vatican Tour, Castel Sant' Angelo is a great bookend to your day.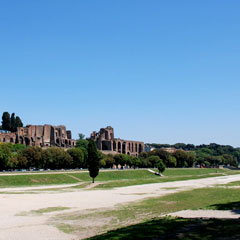 Circus Maximus
US$40
As you walk around the enormous elliptical Circus Maximus, you will travel back in time to the earliest days of Rome. You will almost hear the spectators as you stand where over 100,000 Romans celebrated the public games. Travel back even further to when the first Etruscan king Romulus once celebrated victory over the Sabines in this famous spot. This is a great addition to a Colosseum/Roman Forum tour! An extra fee will apply if transportation is requested.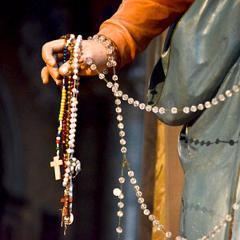 Religious Perspective
US$0
Request for a Tour Guide with strong religious background at no extra cost. Your experience will enrich in spirituality.
 — Our Recommend Tour Extensions
Additional Information
Our complete Terms and Conditions can be found by following this link: https://www.eyesofrome.com/terms-and-conditions
PAYMENTS
Eyes of Rome® prices are in US Dollars - $. If you prefer to be billed in another currency (including EUR/GBP/CAD/AUS) please get in touch with our office by emailing
This email address is being protected from spambots. You need JavaScript enabled to view it.
.
Eyes of Rome® bookings require full or partial payments in advance depending on the selected services. Payment can be made online through our website, by phone, by invoice or via email. We accept PayPal, Bank Transfers and all major Credit Cards (Visa, MasterCard, American Express). In the event of any remaining balance at the end of your tour, payment can be made cash in Euros (EUR - €) to your guide or charged to your Credit Card in Dollars (USD - $).
You can choose between two payment options at the time of your reservation:
1. PAY A DEPOSIT
A down payment is only available for selected services purchased with Credit Card at least 3 days before the tour date. If you prefer to pay a deposit, then your remaining balance can be paid on the day of your tour. You can decide between a Cash payment (Euros only) or Credit Card payment (US Dollars):
(i) Cash payment. Eyes of Rome® will calculate the remaining amount in Euros as per Google Currency Converter - https://www.google.com/finance/converter. We require a 24-hours' notice for this option. The amount can be paid directly to your guide/driver at the end of your tour.
(ii) Credit Card payment. The remaining balance will be charged on the same Credit Card provided during your booking in US Dollars on the day of your tour.
2. PAY FULL AMOUNT
If you prefer to pay the entire amount at the time of your booking, you will be charged the amount in US Dollars right away. Tours purchased with less than 72-hours' notice, or selected tours that require special openings can only be reserved by paying in full.
REFUNDS & CANCELLATION
Eyes of Rome® charges no Cancellation Fee for most tours cancelled with more than 24 hours' notice.
We operate a Full Refund Policy of the amount paid during the booking for cancellations made with 24-hours' minimum notice. However, for selected tours that require advance booking of tickets, Eyes of Rome® reserves the right to keep the amount spent on tickets and reservations purchased in advance on your behalf. Nevertheless we assure you that we will make every effort to resell tickets and reservations purchased on your behalf in order to avoid you having to pay for them- our main priority is to ensure your satisfaction.
For client No-shows or tours cancelled with less than 24-hours' notice, we reserve the right to charge the full price of the package.
In order to provide the highest level of service with our top guides and guaranteed tour schedules, amendments or changes require 24-hours' minimum notice. Eyes of Rome® will make every effort to accommodate your request whenever possible, with no Cancellation Fee. In the event that tickets have been already purchased in your name and can not be moved to a different date or time, please be aware that we might need to purchase new admission tickets for you and the new cost will be added to your bill. Depending on the circumstances we will make every effort to find the most economic solution for you.
Please feel free to contact us if you have any questions about your Eyes of Rome booking. 

Info about your In the Footsteps of Saint Paul Tour:

Private Tour: This is a private tour – your party only.
Tour Time: Approximately 3 hours. Adding optional sites will extend your tour time.
Tour Start Time: You can select your favorite starting time. We recommend 09:30AM or 2:30PM.
Tickets: Admission tickets are not included, will be bought on site.
Children Tour for Free: Children aged 17 and under tour free with paying parents. 
Dress Code: Modest attire is required to enter churches.
Design Your Own Experience: Sites visited are based on the pace of our average client. If you prefer a more leisurely pace, you can opt to see fewer sites. With a private guide, your tour is catered to your interests and activity level.
Mobility Impaired: Our tours involve a fair amount of walking. Please contact us if you are interested in modifying any of the tours for those who have trouble walking.
Guide Requests: Eyes of Rome will make every effort to schedule the guide you have requested, however, sometimes it is not possible due to schedule conflicts or time off. We appreciate your understanding in this matter.