Family Scavenger Hunt
Looking for Clues in the Eternal City
Follow your tour guide and listen for clues that will eventually lead you to a small prize. This entertaining activity starts at Piazza di Spagna and the Spanish Steps: listen carefully to the information provided by your expert guide to answer riddles and embark on your adventure.
Be ready to train your Italian skills as you continue your hunt through the historic center of Rome. Look carefully at the monuments that surround the square to search for clues. Reach your next destination, the beautiful Trevi Fountain where you may also need to ask people around you for help to discover the next destination of your tour. Your itinerary will include a visit to the Pantheon as well, the temple dedicated to all Gods. End your tour in the stunning Navona Square, where you'll be amazed by its beautiful fountains. Solve a final riddle and enjoy your delicious reward!
Please contact us if your group is larger than 5 people or if you are interested in arranging more than one group scavenger hunt!
Summary
Approximately 2.5 hours
Kid-friendly tour
Wheelchair Accessible
Private Tour Only
Suggested starting time


10:0AM

Not available on Sundays.
Included

Blue Badge Qualified Guide | Meet&Greet your Guide at your Hotel/Accommodation | Private Tour

Not Included

Transfer to the site via Taxi (our guide can arrange this) | Private Driver (can be arranged upon request)
Standard itinerary
| | | | |
| --- | --- | --- | --- |
| Piazza di Spagna | Fontana di Trevi | Pantheon | Piazza Navona |
Enhance your Experience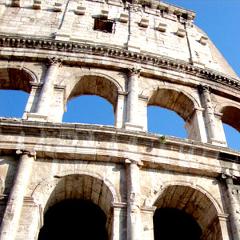 Colosseum
US$140
** Please note: Entrance to the site is optional - Admission tickets will be charged separately.
No time to do a full Colosseum tour? Make it quick! Marvel at this epic engineering feat of the ancient Romans, one of the most amazing attractions of the Ancient World, and a highlight of any trip to Rome. Your guide will bring to life the stories of this iconic monument, its famed gladiators and the emperors who made it all happen. An extra fee will apply if transportation is requested.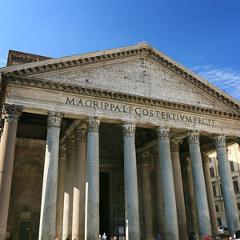 Pantheon
US$70
The Pantheon, this 2nd century tribute to All Gods and famed engineering marvel, has intrigued for ages - let your personal guide bring you back to the days of the emperors and gods when you visit this one-of-a-kind monument.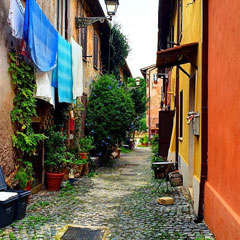 Trastevere
US$70
Lose yourself in Trastevere's charming streets and lively piazzas. You'll immediately see why this unique neighborhood is a favorite for visitors and locals alike. You'll find many bars and restaurants nestled in the curving alleys - a great place to end your day of tours and have a bite to eat! An extra fee will apply if transportation is requested.
 — Our Recommend Tour Extensions
Additional Information
Our complete Terms and Conditions can be found by following this link: https://www.eyesofrome.com/terms-and-conditions

PAYMENTS

Eyes of Rome® prices are in US Dollars - $. If you prefer to be billed in another currency (including EUR/GBP/CAD/AUS) please get in touch with our office by emailing info@eyesofrome.com.

Eyes of Rome® bookings require full or partial payments in advance depending on the selected services. Payment can be made online through our website, by phone, by invoice or via email. We accept PayPal, Bank Transfers and all major Credit Cards (Visa, MasterCard, American Express). In the event of any remaining balance at the end of your tour, payment can be made cash in Euros (EUR - €) to your guide or charged to your Credit Card in Dollars (USD - $).

You can choose between two payment options at the time of your reservation:

1. PAY A DEPOSIT

A down payment is only available for selected services purchased with Credit Card at least 3 days before the tour date. If you prefer to pay a deposit, then your remaining balance can be paid on the day of your tour. You can decide between a Cash payment (Euros only) or Credit Card payment (US Dollars):

(i) Cash payment. Eyes of Rome® will calculate the remaining amount in Euros as per Google Currency Converter - https://www.google.com/finance/converter. We require a 24-hours' notice for this option. The amount can be paid directly to your guide/driver at the end of your tour.

(ii) Credit Card payment. The remaining balance will be charged on the same Credit Card provided during your booking in US Dollars on the day of your tour.

2. PAY FULL AMOUNT

If you prefer to pay the entire amount at the time of your booking, you will be charged the amount in US Dollars right away. Tours purchased with less than 72-hours' notice, or selected tours that require special openings can only be reserved by paying in full.

REFUNDS & CANCELLATION

Eyes of Rome® charges no Cancellation Fee for most tours cancelled with more than 24 hours' notice.

We operate a Full Refund Policy of the amount paid during the booking for cancellations made with 24-hours' minimum notice. However, for selected tours that require advance booking of tickets, Eyes of Rome® reserves the right to keep the amount spent on tickets and reservations purchased in advance on your behalf. Nevertheless we assure you that we will make every effort to resell tickets and reservations purchased on your behalf in order to avoid you having to pay for them- our main priority is to ensure your satisfaction.

For client No-shows or tours cancelled with less than 24-hours' notice, we reserve the right to charge the full price of the package.

In order to provide the highest level of service with our top guides and guaranteed tour schedules, amendments or changes require 24-hours' minimum notice. Eyes of Rome® will make every effort to accommodate your request whenever possible, with no Cancellation Fee. In the event that tickets have been already purchased in your name and can not be moved to a different date or time, please be aware that we might need to purchase new admission tickets for you and the new cost will be added to your bill. Depending on the circumstances we will make every effort to find the most economic solution for you.
Please feel free to contact us if you have any questions about your Eyes of Rome booking. 

Info about your Family Scavenger:

Private Tour: This is a private tour – your party only.
Tour Time: Approximately 2h 30m. Adding optional sites will extend your tour time.
Tour Start Time: 10:00AM. 
Design Your Own Experience: Sites visited are based on the pace of our average client. If you prefer a more leisurely pace, you can opt to see fewer sites. With a private guide, your tour is catered to your interests and activity level.
Mobility Impaired: Our tours involve a fair amount of walking. Please contact us if you are interested in modifying any of the tours for those who have trouble walking.
Guide Requests: Eyes of Rome will make every effort to schedule the guide you have requested, however, sometimes it is not possible due to schedule conflicts or time off. We appreciate your understanding in this matter.
Please contact us if your group is made of more than 5 people or if you are interested in arranging more than one group hunts.