Colosseum and Roman Forum Virtual Reality Experience - Transfer Included
Virtual Views of the Colosseum and Roman Forum
Thanks to the latest generation VR headset, as easy as putting on sunglasses, you will experience an accurate 3D and 360° view of selected areas of the Colosseum and Roman Forum. You will be accompanied by an expert local guide who lead you into the past and will assist with using the device.
Experience what it was like to stand in front of the great Colosseum at the time it was first constructed. The massive stone amphitheater seated an estimated 60,000 spectators and was built in only 8 years. Your guide will share fascinating stories of its design and construction, the politics, the fighters, and the eventual end of the games at the Colosseum. Simultaneously, you'll be virtually catapulted into the place where it all started.
Wander the Roman Forum with your expert guide and get passionate about the history of the great Roman Empire. Your guide will bring to life the mythology, popular celebrations of the time, and gods of ancient Rome, which are reflected in the star signs in contemporary astrology. Stop in front of selected ruins and marvel as they come alive and fully rebuilt in front of you. You will be able to easily and truly understand what the Roman Forum looked like and you'll instantaneously step 2000 years into the past as an actor on its original stage.

Summary
Approximately 3 hours
Tour is not kid-friendly
Partial access for wheelchairs
Private Tour
Suggested starting time
9:30AM or 1:30PM (Nov-Mar)
8:30AM or 3:00PM (Apr-Oct)
Not recommended on the first Sunday of each month
Included

Blue Badge Qualified Guide | Meet & Greet your Guide at your Hotel/Accommodation | Private Tour | Transfer to the site via taxi | Admission Tickets (Guaranteed to skip the long lines) | Virtual Reality Experience with VR Headset

Not Included

Snacks & Beverages
Standard itinerary
| | | |
| --- | --- | --- |
| Colosseum | Arch of Constantine | Roman Forum |
Enhance your Experience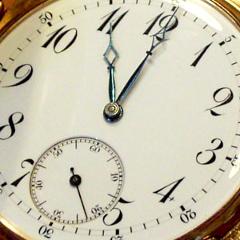 Extra Hour
US$80
Give yourself the freedom to take it easy- add an extra hour to your tour. With a private guide, you set the pace! If you prefer to spend some extra time to learn more, see more, take more photos, or if you have a large group, adding an extra hour ensures a leisurely tour without rushing to fit everything you want to see into the normal 3 hours.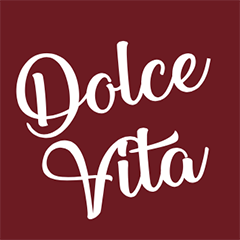 DOLCE VITA Upgrade
US$168
Our Dolce Vita service upgrade is all about great service and peace of mind, with your relaxation and comfort at heart. Choose this option and take your tours to the next level of comfort and care giving you access to your own dedicated travel agent, your private guide's personal assistance, drop off at your accommodation, and a more forgiving cancellation and booking amendment policy. More details are available at: https://support.eyesofrome.com/hc/en-us/articles/115005953229-Eyes-of-Rome-s-DOLCE-VITA-Service-Upgrade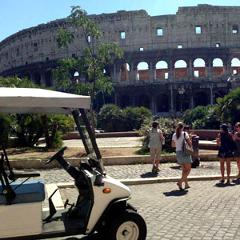 3 Hour Golf Cart Sightseeing Tour
US$430
** Please note: Price is for transport up to 4 people. For bigger groups please send us an email.
Discover a new way to tour historical Rome. Make yourself comfortable while your private driver and guide accompany you during this 3 hour tour. Set off and admire the most significant sights of the Eternal City. Listen to your guide, who will be your story-teller during this tour to discover the major fountains and squares of Rome.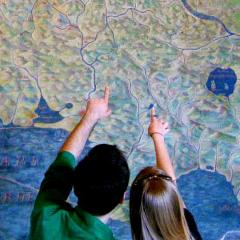 Kid-friendly
US$0
Request a Kid-friendly Tour Guide at no extra cost.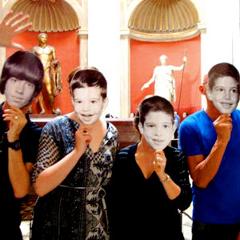 Smile and Tour
US$0
Request for a funny and entertaining Tour Guide. Your laughs come at no extra cost.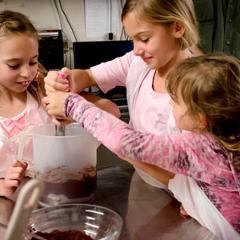 Gelato Class
US$350
** Please note: Price is up to 4 people. For bigger groups please send us an email.
Reach a typical roman "gelateria", an artisanal workshop that has recently been renovated. Engage in a funny, entertaining activity and learn how italian people prepare the famous gelato. Make your own ice cream following the traditional Italian techniques and recipes and enjoy it! An extra fee will apply if transportation is requested.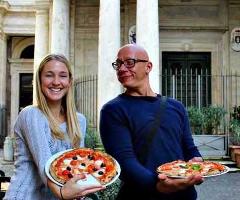 Pizza Class
US$265
** Please note: Price is up to 4 people. For bigger groups please send us an email.
Accompanied by your private guide, head to a historical trattoria in Rome and meet the chef, who will teach you the main techniques to bake a pizza according to the traditional Italian recipe. Season your own pizza with delicious, fresh ingredients and put it in a wood-fired oven for a perfect cooking. Enjoy the pizza you've prepared with your family and friends, accompanied by a soft drink.
These optional extras can be selected during check-out.
 — Our Recommend Tour Extensions
Additional Information
VIRTUAL REALITY HEADSET HEALTH ADVISORY
This tour makes use of Samsung Gear VR powered by Oculus device ('Gear VR'). The Gear VR should not be used by children under the age of 13, as young children are in a critical period in visual development.

Adults should monitor children (age 13 and older) who are using or have used the Gear VR for any of the symptoms described below, and should limit the time children spend using the Gear VR and ensure they take breaks during use.

Prolonged use should be avoided, as this could negatively impact hand-eye coordination, balance, and multi-tasking ability. Adults should monitor children closely during and after use of the Gear VR for any decrease in these abilities.

A comfortable virtual reality experience requires an unimpaired sense of motion and balance. Do not use the Gear VR when you are tired, need sleep, are under the infuence of alcohol or drugs, are hung-over, have digestive problems, are under emotional stress or anxiety, or when suffering from cold, flu, headaches, migraines, or earaches, as this can increase your susceptibility to adverse symptoms.

We recommend seeing a doctor before using the Gear VR if you are pregnant, elderly, have pre-existing binocular vision abnormalities or psychiatric disorders, or suffer from a heart condition or other serious medical condition.

REFUNDS, CANCELLATIONS AND AMENDMENTS POLICIES

1. EYES OF ROME ® STANDARD POLICY
Our Standard Policy applies to most Eyes of Rome® tours.

STANDARD POLICY CANCELLATIONS & REFUNDS

Eyes of Rome® Standard Policy charges no Cancellation Fee for tours cancelled with more than 72 hours' notice.

We operate a Full Refund Policy of the amount paid during the booking for cancellations made with 72-hours' minimum notice.

For client No-shows or tours cancelled with less than 72-hours' notice, we reserve the right to charge the full price of the package.

STANDARD POLICY AMENDMENTS

In order to provide the highest level of service with our top guides and guaranteed tour schedules, amendments or changes require 72-hours' minimum notice, and are subject to ticket availability for the new date. Eyes of Rome® will make every effort to accommodate your request whenever possible.

2. EYES OF ROME ® DOLCE VITA POLICY
Eyes of Rome® Dolce Vita Policy consists of an upgrade to the Standard policy and is only available upon request.

It can be purchased as an add-on for selected tours. The add-on allows clients to take advantage of more flexible conditions in case of cancellation or last-minute changes.

This Policy does not apply to tours with our All Sales Final Policy.

DOLCE VITA POLICY CANCELLATIONS & REFUNDS
Eyes of Rome® Dolce Vita Policy charges no Cancellation Fee for tours cancelled with more than 24 hours' notice.

We operate a Full Refund Policy of the amount paid during the booking for cancellations made with 24-hours' minimum notice, even when it includes prepaid and already bought tickets.

Only in case of client No-shows or tours cancelled with less than 24-hours' notice, we reserve the right to charge the full price of the package.

DOLCE VITA POLICY AMENDMENTS
In order to provide the highest level of service with our top guides and guaranteed tour schedules, amendments or changes require 24-hours' minimum notice, and are subject to ticket availability for the new date.

However, Eyes of Rome® will make every effort to accommodate your request whenever possible.

3. EYES OF ROME ® ALL SALES FINAL POLICY
Our All Sales Final Policy applies to a small selection of Eyes of Rome® tours.

It always applies to:
I. All tours for groups over 11 people.
II. All tours that are requested at a different time and date than the ones available online.

The following tours are offered with our All Sales Final Policy only:

Vatican Special:

Vatican First-Class: Secluded Gardens & Sistine Chapel
Exclusive Vatican Museums After Hours VIP Experience
Vatican Art & Breakfast
Must Do:

Borghese Gallery
Colosseum Special

Colosseum Special: Undergrounds & Arena
Eyes of Rome Premiere:

Villa Medici
Just Outside Rome:

Gandolfo Golf Cart Tour
Etruscan Highlights Of Tarquinia With Private Driver Service
Experiences:

Create Your Own Tour
Discovering Florence:

Best of Florence Tour
Our All Sales Final Policy also applies to the following Tour Extensions:

Gelato Class
Handicraft Workshop - Be an Artist for a Day
Jewish Secrets and Hebrew Lapidary

ALL SALES FINAL POLICY CANCELLATIONS & REFUNDS
Eyes of Rome® All Sales Final Policy does not allow any cancellations or refunds for services purchased.

ALL SALES FINAL POLICY AMENDMENTS
Eyes of Rome® All Sales Final Policy does not allow amendments.

PRIVACY POLICY
Eyes of Rome® agrees to protect the privacy of the users, by informing them that their personal data will be used by Eyes of Rome® only in compliance with the following fundamental principles:

Directive 95/46/CE of the European Parliament of the safeguard of individuals regarding the processing of personal data and the circulation of data;
Directive 97/66/CE for the tutelage of privacy in telecommunications;
Directive 97/07/CE for the protection of consumers in long distance contracts;
Directive 00/31/CE for electronic commerce;
EC (Electronic Communications Networks and Services) Regulations 2003. (S.I. No. 535 of 2003) regarding protection code of personal data;
Directive 2000/31/EC Regulations 2003, regarding electronic commerce.
Please feel free to contact us if you have any questions about your Eyes of Rome booking. 

Info about your Colosseum & Roman Forum Virtual Reality Eyes of Rome Tour:

Private Tour: This is a private tour – your party only.
Tour Time: Approximately 3 hours. Adding optional sites will extend your tour time.
Tour Start Time: You can select your favorite starting time. We HIGHLY recommend 9:30AM or 1:30PM in the months between November/March, and 8:30AM or 3:00PM in the months between April/October.
Tickets: Admission tickets for each participant are included in the total price. We will provide your fast line tickets access to the sites, however if you do hold already a reservation please be in touch with us before finalizing your booking and we will adjust your final cost.
Photos: Photos and Video are allowed.
Children Tour for Free: Children aged 17 and under tour free with paying parents. However Colosseum/Roman Forum tickets are required for children aged between 6 and 17. Kids between 0 and 5 do not require a ticket.
Design Your Own Experience: Sites visited are based on the pace of our average client. If you prefer a more leisurely pace, you can opt to see fewer sites. With a private guide, your tour is catered to your interests and activity level.
Mobility Impaired: Our tours involve a fair amount of walking. Please contact us if you are interested in modifying any of the tours for those who have trouble walking.
Guide Requests: Eyes of Rome will make every effort to schedule the guide you have requested, however, sometimes it is not possible due to schedule conflicts or time off. We appreciate your understanding in this matter.
Personal Items: Large bags are NOT allowed in the Colosseum. 
Tips: Be prepared to climb uneven steps and explore an archeological site - wear good shoes. Anticipate Rome's intense heat in the summer - you may want to bring a small umbrella to block the sun (large umbrellas not allowed) as well as bottles of water.
Virtual Reality: Not recommended for children under 13 years old. Please consult a doctor before trying virtual reality especially if you have epilepsy or are otherwise light-sensitive.
tickets net_prices special_details