Amalfi Coast: Positano and Sorrento with Private Driver Service
Discover the best of the Amalfi Coast with your Private Driver
Category:
Discovering Southern Italy
Once you are picked up from your Rome accommodation, head towards The Amalfi Coast with your private driver. Today you will see an Italian landscape dotted with small towns dramatically settled between the rugged mountains and an extraordinary blue sea. Set off to Positano and Sorrento with this private tour, and enjoy two of the most beautiful gems of the coast.
The dramatic 500 foot drop below the narrow road you'll be driven along is one of the true wonders of Italy.
Sorrento and its terraces dominating the Gulf of Naples with a picture perfect Mount Vesuvius in the background. A small town wonderfully located over white steep cliffs, it is world renowned as the town of lemons, high-pedigree hotels and typical products of local crafts, such as Limoncello. Enjoy a pleasant walking tour in the city and some time for shopping and great food. The to Positano, and keep on marveling at the beauties of Italy.
According to legend, Positano was founded by the God Neptune when he fell in love with the nymph Pasitea. Positano has earned its worldwide reputation not only because of the beauty of its surroundings, but also because of the shops that produce made-to-measure clothing in the distinctive "Positano style". Enjoy typical stops and discover beauties of the area, including the exclusive three islands of "Li Galli", right in the middle of the sea in front of you: once home of the sirens of Homer's Odysseus, they have recently housed the private retreat of the worldwide ballet star Rudolf Nurejev and, currently, singer Mariah Carey.
Summary
Approximately 10 hours
Kid-friendly tour
Partial access for wheelchairs
Private Tour Only
Suggested starting time


07:30

Always recommended
Included

Meet & Greet your driver at your Hotel/Accommodation | Private Experience | Transfer to & from the site via private driver

Not Included

Meals
Standard itinerary
| | | | |
| --- | --- | --- | --- |
| Hotel/Accommodation | Sorrento | Positano | Hotel/Accommodation |
Enhance your Experience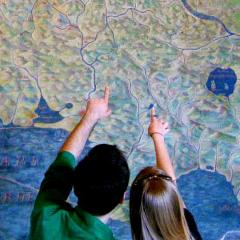 Kid-friendly
US$0
Request a Kid-friendly Tour Guide at no extra cost.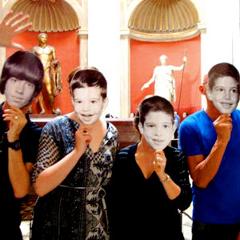 Smile and Tour
US$0
Request for a funny and entertaining Tour Guide. Your laughs come at no extra cost.
These optional extras can be selected during check-out.
 — Our Recommend Tour Extensions
Additional Information
If your group is larger than 7 people, please send us an email at info@eyesofrome.com to arrange a customized quote.

REFUNDS, CANCELLATIONS AND AMENDMENTS POLICIES
1. EYES OF ROME ® STANDARD POLICY
Our Standard Policy applies to most Eyes of Rome® tours.

STANDARD POLICY CANCELLATIONS & REFUNDS

Eyes of Rome® Standard Policy charges no Cancellation Fee for tours cancelled with more than 72 hours' notice.

We operate a Full Refund Policy of the amount paid during the booking for cancellations made with 72-hours' minimum notice.

For client No-shows or tours cancelled with less than 72-hours' notice, we reserve the right to charge the full price of the package.

STANDARD POLICY AMENDMENTS

In order to provide the highest level of service with our top guides and guaranteed tour schedules, amendments or changes require 72-hours' minimum notice, and are subject to ticket availability for the new date. Eyes of Rome® will make every effort to accommodate your request whenever possible.

2. EYES OF ROME ® DOLCE VITA POLICY
Eyes of Rome® Dolce Vita Policy consists of an upgrade to the Standard policy and is only available upon request.

It can be purchased as an add-on for selected tours. The add-on allows clients to take advantage of more flexible conditions in case of cancellation or last-minute changes.

This Policy does not apply to tours with our All Sales Final Policy.

DOLCE VITA POLICY CANCELLATIONS & REFUNDS

Eyes of Rome® Dolce Vita Policy charges no Cancellation Fee for tours cancelled with more than 24 hours' notice.

We operate a Full Refund Policy of the amount paid during the booking for cancellations made with 24-hours' minimum notice, even when it includes prepaid and already bought tickets.

Only in case of client No-shows or tours cancelled with less than 24-hours' notice, we reserve the right to charge the full price of the package.

DOLCE VITA POLICY AMENDMENTS

In order to provide the highest level of service with our top guides and guaranteed tour schedules, amendments or changes require 24-hours' minimum notice, and are subject to ticket availability for the new date.

However, Eyes of Rome® will make every effort to accommodate your request whenever possible.

3. EYES OF ROME ® ALL SALES FINAL POLICY
Our All Sales Final Policy applies to a small selection of Eyes of Rome® tours.

It always applies to:
I. All tours for groups over 11 people.
II. All tours that are requested at a different time and date than the ones available online.

The following tours are offered with our All Sales Final Policy only:

Vatican Special:

Vatican First-Class: Secluded Gardens & Sistine Chapel
Exclusive Vatican Museums After Hours VIP Experience
Vatican Art & Breakfast
Must Do:

Borghese Gallery
Colosseum Special

Colosseum Special: Undergrounds & Arena
Eyes of Rome Premiere:

Villa Medici
Just Outside Rome:

Gandolfo Golf Cart Tour
Etruscan Highlights Of Tarquinia With Private Driver Service
Experiences:

Create Your Own Tour
Discovering Florence:

Best of Florence Tour
Discovering Southern Italy:

Pompeii and the Amalfi Coast
Our All Sales Final Policy also applies to the following Tour Extensions:

Gelato Class
Handicraft Workshop - Be an Artist for a Day
Jewish Secrets and Hebrew Lapidary
ALL SALES FINAL POLICY CANCELLATIONS & REFUNDS

Eyes of Rome® All Sales Final Policy does not allow any cancellations or refunds for services purchased.

ALL SALES FINAL POLICY AMENDMENTS

Eyes of Rome® All Sales Final Policy does not allow amendments.

PRIVACY POLICY
Eyes of Rome® agrees to protect the privacy of the users, by informing them that their personal data will be used by Eyes of Rome® only in compliance with the following fundamental principles:

Directive 95/46/CE of the European Parliament of the safeguard of individuals regarding the processing of personal data and the circulation of data;
Directive 97/66/CE for the tutelage of privacy in telecommunications;
Directive 97/07/CE for the protection of consumers in long distance contracts;
Directive 00/31/CE for electronic commerce;
EC (Electronic Communications Networks and Services) Regulations 2003. (S.I. No. 535 of 2003) regarding protection code of personal data;
Directive 2000/31/EC Regulations 2003, regarding electronic commerce.
Please feel free to contact us if you have any questions about your Eyes of Rome booking. 

Info about your Positano & Sorrento Eyes of Rome Tour:

Private Tour: This is a private tour – your party only.
Tour Time: Approximately 10 hours. Adding optional sites will extend your tour time.
Tour Start Time: We recommend 09:00AM.
Tickets: No tickets are needed. 
Children Tour for Free: Children aged 17 and under tour free with paying parents, except for reduced entrance ticket cost. 
Dress Code: Comfortable. 
Design Your Own Experience: Sites visited are based on the pace of our average client. If you prefer a more leisurely pace, you can opt to see fewer sites. Your tour is catered to your interests and activity level.
Mobility Impaired: Our tours involve a fair amount of walking. Please contact us if you are interested in modifying any of the tours for those who have trouble walking.
Guide Requests: Eyes of Rome will make every effort to schedule the guide you have requested, however, sometimes it is not possible due to schedule conflicts or time off. We appreciate your understanding in this matter.
tickets net_prices special_details