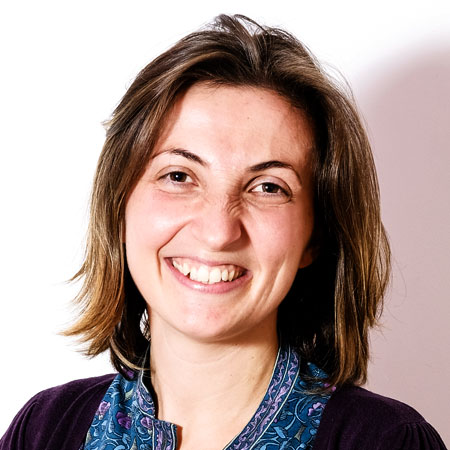 Born in:

Rome

Nationality:

Italian

My Studies:

Art History

Languages I speak:

Italian, English

My Tours are:

Professional and fun! I love the challenge of educating first-time visitors to Italy as well as entertaining returning art, architecture and history experts alike. The hidden secrets of Rome come alive through my stories, and I look forward to sharing a tale or two with you soon!
Gallery
If I was a phrase I would be:
"I am certain of nothing but the holiness of the heart's affections, and the truth of imagination."
For your Italian holiday I recommend you read:
ROME. A cultural, visual, and personal history
Robert Hughes
ISOLE. Guida vagabonda di Roma
Marco Lodoli
Meditations
Marcus Aurelius, translation by Maxwell Staniforth
Roman Baroque Sculpture: The Industry of Art
Jennifer Montagu
I recommend you try:
About me:
When I was a child my father told me many stories and anecdotes about the Colosseum and Ancient Rome and we used to stroll through our Eternal City and play in the Roman Forum. With my mom, I used to visit all the churches, looking for the most fascinating painters and going shopping in the jewish district or in the big market at Piazza Vittorio.
This is how I fell in love with Rome - because it's home and much more.

Later, I studied Art History at University, focusing on the conservation of our cultural heritage. I believe it's an honor and a responsibility to take care of it and to preserve it for future generations. I received my Master's degree in Industrial Archaeology and then another one in Didactics of pictorial disciplines. I could have worked as a teacher or a professor, but I feel working as a guide is a special privilege and I hope to see you soon!

Being a tourguide is...
…the most amazing job I could have asked for. I am lucky for the opportunity of being part of my guests' memories during their trips to Rome. Sometimes I feel a bit like I'm on vacation, too!
Rome is a never-ending process of discovery- the more I look around, the more I find! With so many perspectives and details to see, I don't think I will ever know it all. Actually I don't want to know it all; I'd love to spend my entire life investigating and noticing all of the different nuances of Rome's beauty.
Every day is different when I give my tours, even walking on the same paths; every question my guests ask, and their endless curiosity, become the most stimulating inspiration for my stories. You can see Rome always with different eyes. My aim is to introduce you to the aspects of my city that might make your visit even better, and thus give you the keys to make your own experience something unforgettable.
My favorite Italian Gestures
Aumma, Aumma (Ah-oo-ma, Ah-oo-ma) / Just between us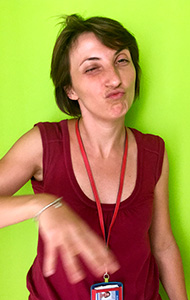 Have you ever done something "aumma aumma"? Can you imagine what it might mean?

If you want to keep something between you and another person or you don't want anyone to discover a smart idea you've had, you can say "aumma, aumma," or make the gesture. It means "keep it a secret" or "keep it hush-hush". 
Open your right hand, turn your palm down, as if you are about to pick something up; do not close your hand, but keep it loose, about half way open. Then start rotating your wrist clockwise, as if you are stirring water in a bowl with your fingers. In order to give more intensity to this gesture, you should also tighten your lips and wink- this will emphasize the real meaning! To be sure the secret will be preserved, you may also need trustworthy friends...good luck with that! :)
Help Center Activity:

Hi Gwen, thank you for your interesting question! In winter temperatures are cold but not extreme.... If your husband's parents are traveling with kids then perhaps I would suggest the morning tour, but if they travel alone why don't take advantage of the romantic Christmas lights? Please let us know your thoughts at This email address is being protected from spambots. You need JavaScript enabled to view it., we...

Ciao Karol! This is Stefania writing, I am one of the tour guides here at Eyes of Rome! You know, one of my favourite tours is the City Walking Tour! I love to show my guests around my city and, among the best sites to visit, I definitely recommend the Jewish district and Trastevere! There are many stories about the Roman Tradition to tell.....I...

Ciao Julia! What a great question! It happens quite often that we have guests that would like to see as much as possible in one day due to their tight schedules. While I personally believe it best to spend one night in Florence, to be able to enjoy and get a real feel for the city and its history, it is absolutely doable in one day. The tours we...

My favorite one is Monti! Even if it is the first in the list, many people miss it, because it is more residential than touristic. A few steps behind the Forum, in between Saint Mary the Major Basilica and the Trajan's Markets, it is a well stratified, built on the slopes of the Quirinal Hill. If you walk on Via del Boschetto, Via dei Serpenti or...