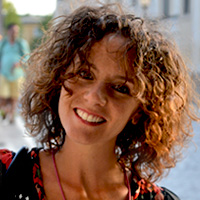 Born in:

Latina

Nationality:

Italian

My Studies:

Art History and Tourism

Languages I speak:

Italian, English, French

My Tours are:

Always different and completely tailored to your needs! I really love making you feel at home and I have plenty of stories, tips, and little secrets you can only know if you live in Rome. 

 
Gallery
If I was a phrase I would be:
"You should start each day with a song in your heart, a gleam in your eye and peace in your soul."
For your Italian holiday I recommend you read:
Monty Python's The Meaning of Life
Graham Chapman & John Cleese
Italian Journey
Johann Wolfgang von Goethe
I recommend you try:
About me:
Buongiorno! My name is Serena, I am a tour guide and I simply love it. I studied Art History in college and I also spent a year studying and working at the art restoration institute of Rome. My passion for art, archeology and history runs deep and my goal is share this passion, with other people all of the beauty of my city. I fell in love with Rome and its history, art and architecture and I felt I wanted to know even more about its hidden places, stories, legends and secrets that make this city so special.
Luckily, my studies perfectly matched my constant curiosity! What I do when I am not working? I love to spend time with my family and my friends (my 'soul family') and of course with my two little dogs (Mamma's princesses!!!) I love cooking, and eating too- by now I could get master's degrees in pizza, pasta and gelato! And I love to travel, discover the world, experience new cultures. Traveling is the only way of spending money that will make you richer!

Being a tourguide is...
...the best job ever! Being part of your vacation is an honor and my goal is to make your experience unique. When you are happy with your trip, I am the happiest tour guide in Rome! I think that everyone should be a tour guide for a day to see the wonder the eyes of a guest when they see our beautiful city the first time- it makes me fall in love with Rome again and again and again! 
Sharing my passion with you is the only way to give sense to all the important things I studied. I love to travel, explore the world and open my mind by coming into contact with people from all different cultures, which is why being a tour guide is the perfect job for me- when I work, all the world comes to me! 
My favorite Italian Gestures
And so / Allora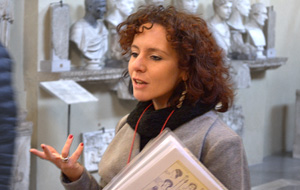 I use 'allora' so much during my tours. For some reason, it doesn't really come out in English when I am speaking.

It can mean a few things: So? And? And so... And then… I use it to start a new sentence, to make sure you understood what I said or that you wrote the name of the best gelato place correctly, to check if you are ok or if you need a rest.
Allora is used for everything- that's why at some point during my tour, my clients ask, "Serena, what does 'allora' mean?" Now you know!
Help Center Activity:
Sandraaa I can't wait to meet you all! I remember how much you enjoyed Italian food during your last visit to Rome..a food tasting of the most typical Italian Christmas sweets is waiting for us! I'll show you our traditional Presepi (nativity scene)....the Christmas lights decorating Via del Corso...I just can't promise you a snowfall, but we'll...
Hey Vin! thank you for your comment here. It is wonderful to hear you still so excited. Thank you as well for being so kind and passionate about the Vatican and to my stories. It is such a greta pleasure spending time with people like you. And thanks for the evening pizza also ;) next time we go for carbonara. Caio!!!
Hi Al. I am glad you liked the tour! The early morning is a nice way to navigate the Vatican. I really enjoyed being with you guys. A big hug to you two :)