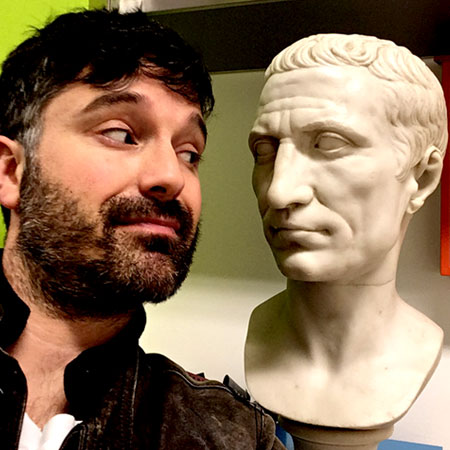 Born in:

Rome

Nationality:

Italian

My Studies:

History

Languages I speak:

Italian, English

My Tours are:

Lots of Fun! I like to have a storytelling approach. If you are interested in ancient myths and local legends, I am your man for the job!
Gallery
If I was a phrase I would be:
"The Leaning Tower of Pisa... what if it knows something we don't?!"
For your Italian holiday I recommend you read:
The Ides of March
Valerio Massimo Manfredi
Michelangelo and the Pope's Ceiling
Ross King
The Sistine Secrets: Michelangelo's Forbidden Messages in the Heart of the Vatican
Roy Doliner
I recommend you try:
About me:
Buongiorno! My name is Emiliano and I am a local tour guide born and raised in Rome. I look Italian and I wear sunglasses, so you cannot miss me! Regardless of my 100% "Romanismo" (I have Gladiator blood in my veins) I lived in England and California for a few years and I have been working hard on trying to find the right mix between my Roman and various English accents while giving tours.
Besides my passion for Ancient History and Renaissance Art, my main fervor regards Ancient Roman and Greek Mythology as well as the Etymology of languages (where modern words we use today come from) due to my keen knowledge of Latin texts. I look forward to welcoming you here to Italy and guiding you and your family through eternity.

Being a tourguide is...
...the most satisfying job I could have ever hoped for. The way I like to conduct my tours is to never burden you with too many dates or names. I am aware that you will be visiting Italy on vacation, so I don't want to lecture you; rather, I'll entertain you as a friend, concentrating upon legends, popular beliefs, curiosities, mysteries and the little-known secrets the Eternal City has to offer.
Unless otherwise requested by my guests, my tours are generally family and kid-oriented, fun and friendly with a storytelling approach. I believe in the idea of experiencing the city by touching it, learning and embracing its history and culture in a fresh new way that blends together the perspective of the locals together with a good level of amusement and entertainment.
My favorite Italian Gestures
What do you want? / Ma cosa vuoi?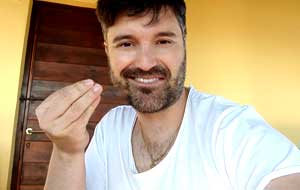 This is definitely the gesture I like the most!

It is part of our tradition and it is always a lot of fun doing it or seeing other people using it. Sometimes I use it without even realising it. My friends abroad often portray Italian stereotypes with this gesture and that makes me always proud of being Italian.

The fingertips are brought together upright and the hand is waved in a swinging movement up and down. It is generally used to ask "what the hell are you saying?" or "what the heck do you want?", but it can really be used during any animated conversation. Italians often use it even when they're on the phone or talking to themselves. Try it once and I promise you will not be able to live without it!
 
Don't believe me? Check this out!.
Help Center Activity:
Pizza in rome: Choosing "Alta" (Deep Pan) or "Bassa" (Thin Crust)?
December 05, 2016 14:35
Visit Pope Julius II's private apartments, frescoed by Raphael and enjoy masterpieces including Raphael's most famous work, The School of Athens. You'll then descend into the lower level apartments last used by the infamous Pope Alexander VI of the notorious Borgia family. Finally, you'll enjoy modern art including pieces by Van Gogh, Rodin, Dali and many more.