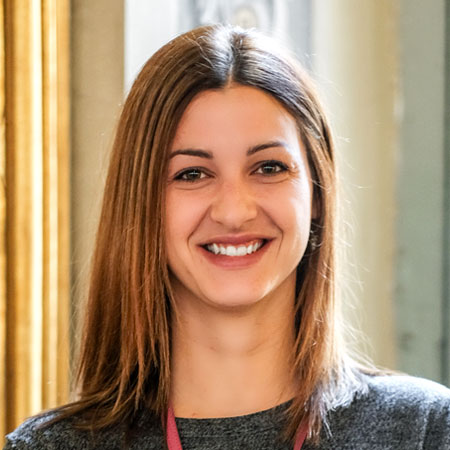 Born in:

Rome

Nationality:

Italian

My Studies:

Cultural Anthropology, Art History, Tourism

Languages I speak:

Italian, English

My Tours are:

Exciting! My passion for history and art will lead you to discover the stories, legends and hidden gems behind the official stories.
Gallery
If I was a phrase I would be:
"If you must break the law, do it to seize power. In all other cases, observe it."
For your Italian holiday I recommend you read:
Love and Sex in Ancient Rome
Alberto Angela
Angels and Demons
Dan Brown
The Sistine Secrets: Michelangelo's Forbidden Messages in the Heart of the Vatican
Roy Doliner
La Fuga del Bove
Elisa Taddei
I recommend you try:
About me:
Ciao belli! I am Elisa Nobili, a local tour guide born and raised in the Eternal City- an authentic Roman from Rome.  My career has always been focused on Tourism and Art History as I studied at the best tourism high school of Rome, named after the great explorer Christopher Columbus, to study to be travel agent. Soon after my first internship with a travel agent, I realized that organizing holidays for clients would not be enough for me- I wanted to be part of the trip. Then I visited ancient Ostia's archaeological excavations with on a field trip, and our guide was so excellent that her explanation really made the past come alive.  I felt a thrill and in that moment as I had found what would be my perfect place in the world. I was only 18 but my idea was clear…I wanted to become a tour guide.
So I graduated and then I gained experience as a guide during my internship while I was studying Cultural Heritage at Tor Vergata University in Rome. After few years, I took the professional exam and I became an Art Historian- it was like a little dream come true. In addition to university, my best teachers have been my European trips and my clients, whose questions encouraged me to improve my knowledge about Rome from many different points of view and even helped my English pronunciation! Recently I became an independent writer, with the publication of my university thesis in Cultural Anthropology about a medieval festival in Montefalco (a town in Umbria).

Being a tourguide is...
...a way to meet clients and part ways as new friends! Their smiles are the best tips for me and pure satisfaction is when people are able to hear your voice, follow your steps and look at your fingers pointing out the best works of art for hours without getting bored, all while being more than happy to share that experience with you. I'm not a teacher explaining an art history lesson, but I'm a storyteller entertaining you while you learn how my ancient city has changed through the centuries.  To support my words I often use digital pictures that can help you imagine an enormous temple when you're only looking at one marble column.
The answers I have always looked for are about why historical figures did what they did, the real reasons behind their decisions and the facts, secrets and symbols they used to hide them…studying and transmitting that information is my mission. I think that dates, names are less important as they rarely stay in your memory for very long…what remains engraved in the mind are motivations and mysteries of the official history and also funny or dramatic stories behind them. I am a very flexible person so it's easy for me to create tailor-made tours for all different kinds of clients, but generally I'm oriented toward young couples looking for an adventure in Rome and families that like to learn and taste Italian culture through monuments and ice cream. I am also the mother of a very curious baby girl so one of my specialties is to be able to narrate history as a fable: heroes, princesses and monsters are behind every corner of Rome, the secret is to find the right way to describe them and search for the happy ending even in stories that apparently do not have one.
Another reason why I love this job is that you never stop learning, not only from books but even more so from guests.  The cultural exchange with people from all over the world enriches my mind and my soul every day.
Help Center Activity:
January 29, 2018 16:36
Julius Caesar is probably ancient Rome's most famous figure. A brilliant politician and general, his accomplishments and influence were so significant that other languages have words meaning "ruler" that derive from his name, such as "kaiser" in German and "czar" in Russian. Another lasting tribute: he's even got his own month;...
Hi my friends, I am so happy to read this comment. You are right when you say that Angels and Demons tour is not just a normal tour but an extraordinary experience! You discover the secret meanings hidden in plain sight around Rome, following the sites described in Dan Brown's novel. Even when I studied for this tour I had your same reaction- I...
Dear Ms Whiteman, Thanks for your interest. I'm a guide on the Eyes of Rome team and I am happy to read about how much you loved Bernini, because he is my favorite artist! The two wonderful statues you mentioned are not located in churches but are both part of the Borghese collection. My advice is to book a tour of the Borghese Gallery, so you...