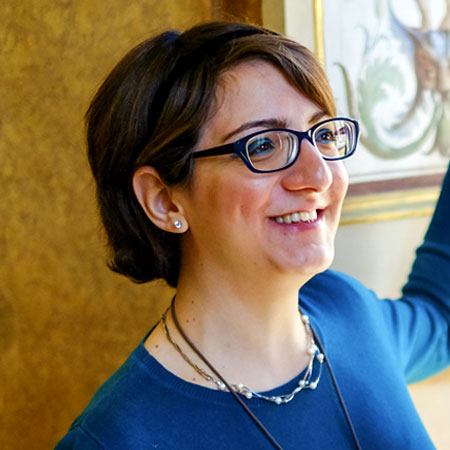 Born in:

Rome

Nationality:

Italian

My Studies:

Art History

Languages I speak:

English, French, Spanish, Italian

My Tours are:

Informative, but never boring! If you love the secrets of history and to taste good food, I'm the right guide for you!
Gallery
If I was a phrase I would be:
"Art is not what you see, but what you show to others."
For your Italian holiday I recommend you read:
The Agony and the Ecstasy
Irving Stone
Panem et Circenses. Sand and Blood
Giorgio Franchetti
A Day in the Life of Ancient Rome
Alberto Angela
I recommend you try:
About me:
Hi everybody! My name is Barbara and I'm a tour guide and Art historian, born in Rome and raised in Ciampino, a little town near Rome. Since I was a child I have loved Art and spent hours and hours in museums and Art exhibitions, enchanted by the absolute perfection reached by the greatest painters of the Renaissance,and above all by the fun and legendary stories behind their existence. Growing up, I was also fascinated by languages, so much so that I decided to study languages in school. For me, learning and speaking foreign languages was and is still today a way to discover new ways of thinking and above all to open my mind to different and intriguing cultures.
However, I've never betrayed my "first love", and therefore, when I was 19 I decided to study Art History at university, focusing my studies in the years between the 15th and the 18th centuries. After all that, it was quite necessary to become a tour guide and share my passions with other people from all over the world. My tours are influenced by my academic preparation and my personal interest for little stories and legends around monuments and artists. When I explain, I try to be clear and unveil the the historical context of artwork and monuments, but also to make them come alive with funny and unexpected "behind the scenes" stories.

Being a tourguide is...
...a new adventure, full of possibilities everyday! It's a hard job, but I consider myself lucky to do it, because I have the occasion to be constantly in relation with my passions and share the beauty of the Eternal City with others! Furthermore, during my tours, I love to give recommendations about food and restaurants (yes, I literarlly worship Roman food and tiramisù.)
My favorite Italian Gestures
Pretty scary, huh? / Paura, eh?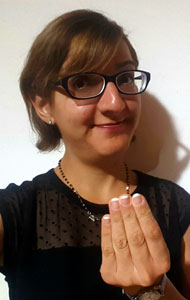 It's quite a funny gesture used to ask if someone is feeling scared, generally after a joke or ironic sentence. It was made popular in Italy by Carlo Lucarelli, a popular TV crime and investigation program host. During an episode of Misteri Italiani (Italian Mysteries) Lucarelli made this gesture to emphasize an extremely scary situation, with a very serious face- which evoked much laughter in the audience, and remains funny to this day.
To make the gesure, turn your palm up, and bring the fingers and thumb together. Then quickly open and close all your fingers, as if you are pinching something. In reality, this represents a particular body part that might tense up when you get really scared. 
Help Center Activity:
Ciao Mark! thank you for your nice comment. I saw you very interested on everything and you can't imagine how happy this can make me. I am glad to have spent half day in your company. Please contact me if you come back to Rome!!