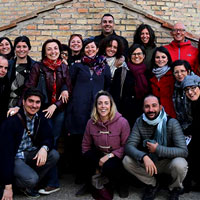 If I was a phrase I would be:
"Come as a tourist, leave as a friend"
About me:
More Profiles on their way!

Being a tourguide is...
...what we do and what we love!
Help Center Activity:
Pizza in rome: Choosing "Alta" (Deep Pan) or "Bassa" (Thin Crust)?
December 05, 2016 14:35
Visit Pope Julius II's private apartments, frescoed by Raphael and enjoy masterpieces including Raphael's most famous work, The School of Athens. You'll then descend into the lower level apartments last used by the infamous Pope Alexander VI of the notorious Borgia family. Finally, you'll enjoy modern art including pieces by Van Gogh, Rodin, Dali and many more.